From the Desk of Diane Banks, Executive Director
It's hard to believe 2022 is almost over. Before it ends, I'd like to take a look back on all that we have accomplished and acknowledge the critical role that our many partners have played in pushing us forward.
With the leadership and support of our board members, community leaders, sponsors and donors, we gained significant momentum this year in pursuit of our important mission: to convene resources needed to solve community challenges in Macomb County.
Thank you for your contributions! We look forward to continuing our work together as we accelerate and pursue even greater heights in 2023.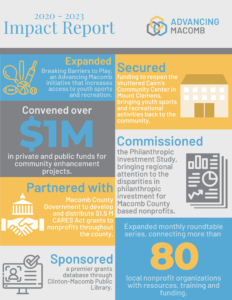 Here are a few highlights from 2022:
Nonprofit Roundtable Series Grows and Expands
Advancing Macomb expanded its Nonprofit Roundtable series throughout 2022. During the pandemic, we developed the roundtable concept to provide nonprofit leaders with a virtual platform to connect, learn and share. Today, more than 80 nonprofit organizations participate in the monthly roundtable series, which is held virtually and, when possible, in person. In addition to connecting local nonprofit organizations with resources, training and funding, we facilitated many opportunities for collaboration.
Cairns Community Center Reopens
Advancing Macomb is proud to have secured the funding needed to reopen the Cairns Community Center in Mount Clemens. The Cairns Community Center plays a vital role in our community by keeping kids active while providing a safe place for them to grow and play. Because of the funding Advancing Macomb secured, the City of Mount Clemens was able to contract with TCB Youth Mentoring as the new operating partner for the center. The center reopened in the summer of 2022, offering youth sports and recreational activities to help create a physically active and healthy community. More than 300 kids have signed up for programming since the center's reopening.
Cascade in the Shade Opens to the Public
Cascade in the Shade, an artistic community play fountain at Shadyside Park in Mount Clemens, officially opened to the public on Aug. 19, 2022. The project is a community effort between Advancing Macomb, the City of Mount Clemens and the Anton Art Center to provide opportunities for play in underutilized parks. Advancing Macomb helped to secure the funding to make the play fountain possible.
Shadyside Park Enhanced with Tree Planting
In October, Advancing Macomb gave the new play fountain another boost with a tree planting event at Shadyside Park in Mount Clemens. We worked in partnership with Consumers Energy, Macomb County Planning & Economic Development, the City of Mount Clemens, the River Acres Community Group and ReLeaf Michigan to obtain and plant trees in the areas around the play fountain.
Breaking Barriers to Play Awarded Project Play Grant
Advancing Macomb recently was awarded a $50,000 grant from Project Play and the William Davidson Foundation to support its Breaking Barriers to Play initiative. Breaking Barriers to Play lowers the cost of in-town recreation that is community and family-centered. The program is a public-private, cost-sharing partnership that offers recreation to communities, allowing youth to participate in recreational activities in their own communities at little to no cost. The grant will enable us to bring Breaking Barriers to Play to additional municipalities throughout Macomb County.
Onward and Upward
Our work throughout 2022 reflected the importance of collaboration and partnership to solve community challenges. With the continued support of our community partners, we are confident that we will expand our reach in 2023. We will continue to seek new opportunities to enrich the lives of Macomb County residents and create a thriving environment to live, learn, recreate and innovate.
If you'd like to get involved with Advancing Macomb in 2023 or learn more about our services, please contact us at our website here. We'd love to hear from you and discuss ways we can work together.