Civic, nonprofit and business leaders throughout Macomb County gathered for the inaugural Advancing Macomb Community Engagement Summit on April 28 at Macomb Community College. The event's goal was to inspire investment in emotionally engaging citizen-led projects that enhance the quality of life and economic vitality in the county and region.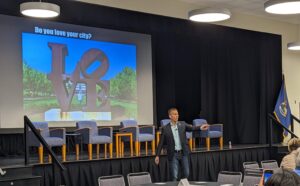 A key takeaway from the summit is that people are more likely to care about their city and love it when there is emotional engagement. Keynote speaker Peter Kageyama, author of Love Where You Live and For the Love of Cities, inspired the audience with the idea that even small things can have an outsized impact. He encouraged the audience to think beyond basic needs like safety and function and aspire to be an interesting and fun city. Create "Love Notes" from your city, Kageyama offered, through things like parks and green space, city rituals and interactive public art. Kageyama also encouraged the group to act in their communities by seizing and celebrating attainable ideas and solutions that get you further down the road to the desired result.
Following the keynote presentation, Christy McDonald of WDIV moderated a panel discussion on how Macomb County destinations create memorable and engaging community experiences. Paul Blake, owner of Blake Farms, spoke about creating year-round experiences for the community that keep people active while offering green space for families and individuals. Carolyn Bloodworth, executive director of Consumers Energy Foundation, conveyed the importance of investing in volunteerism and younger people. Phil Gilchrist, executive director of The Anton Art Center, highlighted the arts' role in community development. Dana Schmitt, president of the United Shore Professional Baseball League, addressed how her team creates an emotional experience for every visitor at Jimmy John's Field.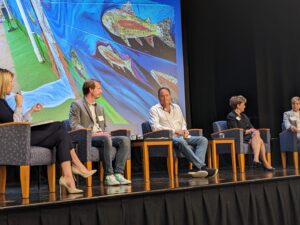 The event concluded with an opportunity for leaders to develop and present their ideas for a community project. The winning project was a county-wide pet fashion show at a community park in a central Macomb County location. Advancing Macomb presented the winning team with a check for $500 to help support the idea. The event will serve as a unifying activity, bringing people throughout the county together for a fun event.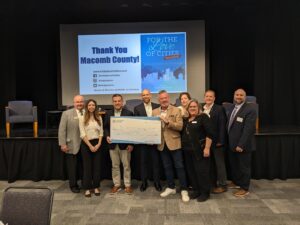 The excitement and momentum created during the Community Engagement Summit will continue. Plans are underway for Advancing Macomb to visit cities and townships throughout the county to brainstorm ideas and develop strategies for strengthening individual communities. Advancing Macomb will share more on this soon. Meanwhile, if you would like to get involved or would like more information, please reach out to us at www.advancingmacomb.com.