A FEATURE ON ROSEVILLE ARTIST
Sarah La Rou-Rozewicz is the owner and operator of Mimi La Rou Designs located in Roseville Michigan. Mimi La Rou officially opened its doors in June of 2016, but Rozewicz has years of experience in home interior decorating, custom furniture design, floral arrangement, and retail management. "My store specializes in home decor, furniture, gifts, furniture paint and unique finds. The storefront is part retail and part studio space," she describes. "I aim to find items and create designs that are unique for my customers."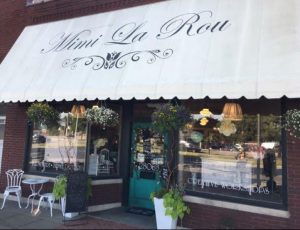 Rozewicz's store is more than just a quaint, classy reflection of her unique style: it is a place for community members to engage in similar creative arts. Rozewicz frequently hosts classes and workshops inside the store, so that people with similar interests can learn and connect with one another. "Since opening I have scheduled a creative workshop and/or held a Furniture Painting 101 workshop nearly every month. If I find something people may want to learn more about, and I don't know how to do it then I bring in a subject matter expert and we all learn together."
Calligraphy, knitting, macramé, and soap making are just some of the art forms Rozewicz has focused on over the past year. "My vision for the store was not just a place to shop, but to offer creative space for other artists. I offer studio time to other furniture painters that may not have a place to paint. I offer them weekly/monthly rates." Sharing knowledge, uniting people, and promoting other artistic professionals are only a few of the values that drive Rozewicz in her mission to create beautiful, one of a kind items.
Aside for her passion to create, Rozewicz also felt drawn to the downtown Roseville area. "Quite simply…I fell in love with the building! It is the oldest building on the block (circa 1800s.) Everything else in the downtown area was literally built around my building. The floors, ceiling, fixtures, and even the front door are all original. It was exactly what I was looking for…retail with studio and office space. This area of Gratiot is historic and known as the Utica Junction and it couldn't be more quant and charming."
The next time you are "cruising Gratiot" stop in to see what Sarah is up to! Or visit her Facebook page to view her work, and get the scoop on upcoming workshops!