The August 19, 2022 grand opening of Cascade in the Shade, an artistic community play fountain at Shadyside Park in Mount Clemens, saw sunny skies and eager children. The project is a community effort between Advancing Macomb, the City of Mount Clemens and the Anton Art Center to provide more opportunities for play in underutilized parks.
The fountain was designed to inspire generational play and community belonging. Residents participated in every aspect of the project from design to fundraising and construction. The community will continue to play an integral role in the future upkeep and improvement of the project.
Advancing Macomb secured a Play Everywhere Design Challenge grant through the Ralph C. Wilson, Jr. Foundation and KABOOM! for the project. An additional $40,000 was secured through a successful crowd-funding campaign and matched by the Michigan Economic Development Corporation's Public Spaces Community Places (PSCP) program.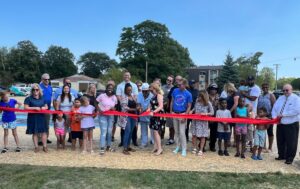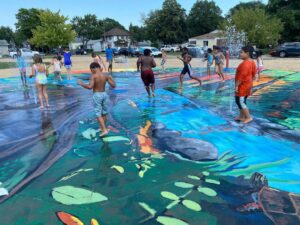 Artist Statement
The center tree stands tall, its roots reaching down to hug, not hide, the historical significance of the 1947 flood event and its tie to the historic neighborhood known as Kibbee Flats. The trees and roots represent community, togetherness, and growth.
Wildflowers bloom, reflecting the diversity and renewed beauty while the Clinton River flows through the vibrant ecosystem. The ever-present surrounding nature remains, despite the past, and is evidence of a sustainable future.
My hope is that the residents take pride in this mural. It exists in all its colors, imagery, and symbolism because of their passion for this community and the desire to tell this story through their own voices. I thank you all deeply for allowing me to be a part of it. – Stephanie Sucaet-Felczak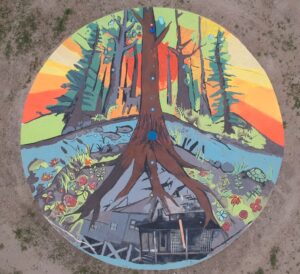 See more photos HERE.