Business, government and nonprofit leaders gathered at Jimmy John's Field on Tuesday, June 14, 2022 for Advancing Macomb's sixth annual Summer Soirée event. Titled "Field of Dreams," the evening featured networking, a strolling dinner and an opportunity to learn about Advancing Macomb's bold vision for the future. This is the first year the event was held at Jimmy John's Field – a move that symbolizes the recent growth and progress of Advancing Macomb.
After cocktails and hors d'oeuvres, guests moved to the field for a brief presentation. Advancing Macomb board member Maria Silamianos welcomed guests on behalf of Trion Solutions, the presenting sponsor. John Blanchard, Advancing Macomb's co-vice chair, thanked attendees and emphasized there has never been a better time to invest in Macomb County. Diane Banks, executive director of Advancing Macomb, closed the presentation with a call to action for guests based on recent research findings,
"Underinvestment in Macomb County is starving its nonprofit ecosystem," said Banks. "Without sufficient philanthropic investments to aid existing nonprofits and attract new ones, our communities will suffer in key areas, such as education and public and societal benefit, including community development and improvement, volunteerism, philanthropy and civil rights.
We need to increase philanthropic investments in Macomb County to aid existing nonprofits and attract new ones — our communities will only grow stronger as a result."
The evening closed with a strolling dinner, desserts and lively conversation among guests.
In addition to Trion Solutions, First State Bank, Consumers Energy, General Motors, Fifth Third Bank and Lipari Foods served as event sponsors.
"Thank you to our sponsors, donors, volunteers and board members who helped make this evening possible. Your support is critical in helping us transform our vision for Macomb County into a reality," concluded Banks.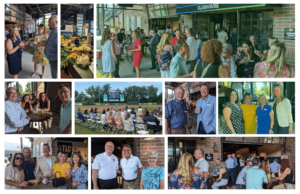 See more Summer Soirée 2022 photos HERE.