Advancing Macomb works diligently to develop collaborations for community development throughout the county.  2019 was a year of exciting community partnerships and the future in 2020 and beyond looks bright. These partnerships – with individuals, funders, organizations and local governments – have enhanced our community and opened valuable conversations.  
2019 Recap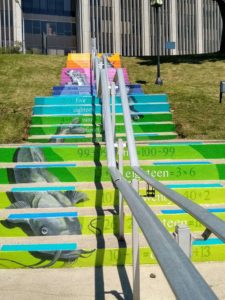 2019 was a busy year for Advancing Macomb in collaborating on projects that added to the community in Mount Clemens. We saw the completion of projects that had long been in the works during our recent focus on the city.  
The Play Everywhere Challenge grant allowed us to add four new pieces of public art to the community. The projects were funded through the KaBoom! "Play Everywhere" grant in conjunction with the Ralph C. Wilson Jr. Foundation. The grant works to bring "play to unexpected but everyday spaces, making it easy and available for kids and families." It was awarded to Advancing Macomb in partnership with the City of Mount Clemens, the Macomb Family YMCA, and the Anton Art Center.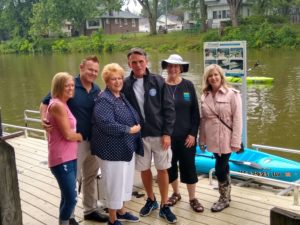 The MacArthur Park Accessible Kayak Launch improved ease of access to the Clinton River for paddle sports in Mount Clemens adjacent to the Macomb Family YMCA on North River Road. The launch was officially opened on June 11 with a ribbon cutting ceremony. The funding was secured through a matching grant from the Michigan Economic Development Corporation's Public Spaces Community Places program added to the funds raised through community members and local organizations including Advancing Macomb.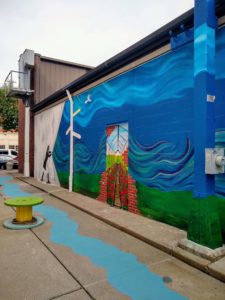 Soccer Program – Advancing Macomb was awarded a General Motors Community Impact Grant used to create a partnership between Advancing Macomb, LK St. Clair Soccer and the City of Mount Clemens to provide an opportunity for youth to learn to play soccer and participate in structured positive play in their own community. The program provides funding for field development in the city and equipment for a youth summer soccer camp facilitated by LK St. Clair Soccer.  
2020 and Beyond 
Moving forward: 2020 Strategic Plan – broadening our impact by narrowing our identity. 
Advancing Macomb experienced a new beginning in 2019 with the transition of the organization's Executive Director and a change in strategic direction. Due to the leadership and dedication of the Board of Directors, the organization enters 2020 in a strong position to broaden our impact. Over the past several months, a sub-committee of the board developed a comprehensive 3-year strategic plan that builds upon past success and identifies measurable goals that meet the needs of our community.  
As part of this plan, we are focused on our strategic mission and vision for Advancing Macomb: 
Mission –  
To strengthen Macomb County by connecting community challenges with high-impact solutions.  
Vision –  
Macomb County is a thriving, collaborative and philanthropic community.  
With this, we are already boldly assuming our role as a conduit between opportunity and need in Macomb County. We are looking forward to continuing our partnerships and forging new collaborations that advance Macomb!