On April 27, Advancing Macomb in conjunction with the Clinton River Watershed Council held an inaugural river cleanup along the banks of the Clinton River in Mount Clemens. The organizations will be debuting a new kayak and canoe launch at MacArthur Park later this spring and wanted to clean up the shoreline in the surrounding area to make it more inviting to enjoy the river.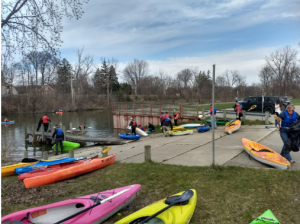 Mark Stiers, president and chief operating officer of DTE Gas, DTE Energy's natural gas utility and Advancing Macomb board member, offered the assistance of his employees through their corporate volunteer program, DTE Cares. Dozens of DTE volunteers helped clean up the riverfront from both the land and the water. Groups spread out between Shady Side park to Sleepy Hollow to MacArthur Park as well as on the river in between. Simple Adventures was on hand with kayaks to get willing volunteers on the water.
The majority of the DTE volunteers that came out were Macomb County residents who were excited to give back to their community and discover new recreation locations close to home. The volunteers collected trash and debris from the parks and along the shoreline. Some of the volunteers headed over to the other side of the river to an area known as Sleepy Hollow with a representative of the Six Rivers Land Conservancy to pull invasive plants.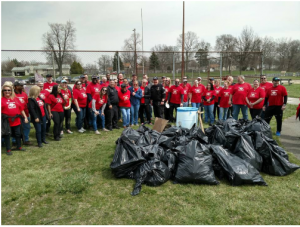 The volunteers were enthusiastic about the project and the results. Many expressed interest to return again. Interest and support from the community also ran high. As a result, more clean-up events and paddling opportunities are in the works.
Thank you to DTE Energy, Clinton River Watershed Council, Sorrento's Pizza, Macomb County Sheriff Department Marine Division, Simple Adventures, Six Rivers Land Conservancy.
For more information on Advancing Macomb, head to our website at https://advancingmacomb.com/