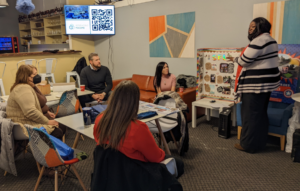 Advancing Macomb and several area nonprofits were able to highlight their organizations to a new audience at the Growing Your Network by Giving Back event at The CoLABorative in downtown Mount Clemens on February 16. The session brought members of the co-working space along with other small business from a local business network group together with the nonprofits for speed networking.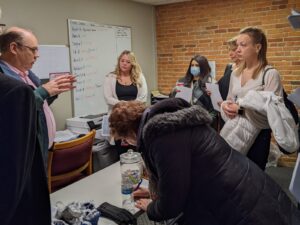 Small groups of attendees rotated through the nonprofits stationed around the building. Each organization was able to present to the groups to discuss their mission and outline how the attendees could get involved. The goal was to build a network from both sides – find out how these entrepreneurs could give back to the community and find ways their businesses might be of assistance to the organizations.
The event was born from a collaborative spirit. Cynthia Sparre, a local networking organizer and Financial Representative for Lifetime Financial Growth and Jessie Black, Community Manager of The CoLABorative, rallied the attendees, while Advancing Macomb brought in the nonprofits.
Energy was high during the event with both groups enjoying the experience and making some valuable connections. The nonprofits attending the event were:
Care House – Macomb County Child Advocacy Center, Inc.
If you would like to join us at the next Growing Your Network by Giving Back event in October to learn more about nonprofit organizations in your community, feel free to click the link to RSVP: https://fb.me/e/3kACW3pkI