Through the Nonprofit Spotlight series, Advancing Macomb highlights the work of a Macomb County based nonprofit. This month, we feature the Macomb Foster Closet.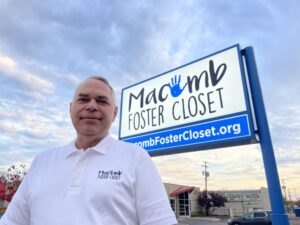 Macomb Foster Closet is an all-volunteer nonprofit 501c3 working to restore dignity to children entering the foster care system by providing them with clothing and other essential items to set them up for success.
Serving over 200 children a month, the organization offers a retail space where kids and their foster families can make an appointment to shop for items they need at no cost. Foster families can shop every two to three months unless they take on a new placement or need an item that wasn't previously in stock. Anyone who is a licensed foster parent is eligible to shop.
"When we as a society take a child out of their home, we as a community have a responsibility to take care of them," said Kevin McAlpine, board president of Macomb Foster Closet. "Our organization provides a means for generous folks in our community to wrap their arms around these kids and do something meaningful. Thanks to the generosity of our donors and community partners, Macomb Foster Closet can provide a child with everything they need to thrive."
For nearly a decade, the Macomb Foster Closet operated out of Macomb County's Family Resource Center in Mount Clemens. When the building closed last summer, the organization was forced to look for a new home. McAlpine and his team of volunteers quickly secured a new location at 158 South Main Street in Mount Clemens, the building formerly known as Second Hand Rose Thrift Store. The Macomb Foster Closet purchased the building and began renovations in July with the goal of opening in January 2024.
With more space available, volunteers will be able to provide expanded programming and training opportunities for foster families as well as additional services for teens who have aged out of the system. Another benefit of the move is the proximity to other human service organizations like MCREST, Turning Point and the Salvation Army which will create new partnerships.
McAlpine credits Advancing Macomb for its ongoing support throughout this project and its assistance in building connections.
"Advancing Macomb has been incredibly important in connecting us with other organizations doing similar work as well as funders and community leaders," McAlpine said. "We've also learned more about other nonprofit organizations that can provide resources to those we serve. Advancing Macomb pulls nonprofits together and allows us to essentially provide wrap-around services to our clients."
Community members interested in helping the Macomb Foster Closet finalize improvements for its new location can contribute to the Forever Home Campaign. The organization still needs $75,000 to complete renovations, including a new HVAC system, carpeting and lighting.
"We realize that not everyone can be a foster parent, but everyone can help a child in foster care," continued McAlpine. "Coming into foster care is hard. Feeling like you have everything you need and someone who cares is huge. We encourage groups to reach out to us if they are interested in supporting our mission."