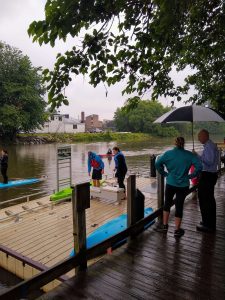 Ease of access to the Clinton River for paddle sports has gotten boost with a new accessible kayak launch at MacArthur Park in Mount Clemens adjacent to the Macomb Family YMCA on North River Road. The launch was officially opened on June 11 with a ribbon cutting ceremony.  The site was named the Neil E. Dempsey Launch, after the late husband of Mount Clemens Mayor, Barb Dempsey. He was remembered as an active member of the Mount Clemens Rotary.  
The goal of the launch is to make the river accessible to all skill levels and to those with disabilities.  The launch features an extendable bench seat to assist in getting in and out of your kayak and a floating platform with rollers that makes entering and exiting the water a breeze.  The project originated as a part of WaterTowns™, a water-oriented community development initiative, created by the Clinton River Watershed Council (CRWC) to connect and enhance public access to the Clinton River and Lake St. Clair.One of the goals of this initiative was to implement a number of accessible kayak/canoe launches to improve access to the water trail for all users.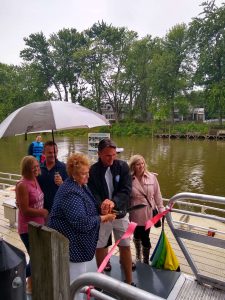 The funding was secured through a matching grant from the Michigan Economic Development Corporation's Public Spaces Community Places program added to the funds raised through community members and local organizations including Advancing Macomb. The project was also nominated for a Community Excellence Award by the Michigan Municipal League.   
Coverage of the launch opening: 
Macomb Daily – June 21, 2019 
Newly-opened McArthur Park Kayak Launch up for Community Excellence Award 
C & G News – June 26, 2019 
Mount Clemens unveils universally accessible kayak launch