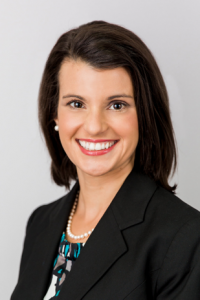 Attorney Fran-Marie Silveri is a Macomb County native who is growing her legal practice in estate planning and administration. Silveri is a founding member of La Grasso, Abdo & Silveri, PLLC of Sterling Heights.
What is your background?
In addition to my law degree from the University of Michigan Law School, I hold a Bachelor's of Business Administration from the University of Michigan Business School and a Bachelor's of Arts with a major in Psychology from the University of Michigan college of Literature, Science & Arts. Practicing in the area of estate planning and administration allows me to use all of my degrees.
How did you get into the profession of law?
After I graduated from college, I worked in real estate and marketing. I enjoyed the work I was doing, but had a strong urge to go back to school to become qualified to help people in a way they couldn't help themselves. It was a very vague, yet specific, urging. I explored multiple career avenues that technically would meet the criteria, such as psychotherapy, market analysis and research, and accounting. Ultimately, I was drawn to the law, and melded my interests in the business world and in psychology to find a way to counsel clients on how to protect their assets and their family in the face of a potential incapacity or eventual death.
How do you measure success?
I evaluate my professional success based on how satisfied my clients are with the work I do for them. If my clients are happy enough with my services to recommend me to others, I know I'm doing something right. My ultimate professional goal is to be a major contributor to the growth and betterment of my community, and to be widely known as a great attorney who truly listens to clients and staunchly seeks to find the best solutions for them.
Do you live in Macomb County? Did you grow up in Macomb County?
I was born and raised in Macomb County. I was a product of Utica Community Schools. After my undergraduate education, I returned to Macomb County where I got married and started to put down roots (my husband was also born and raised here). After law school, I was offered employment by firms in Chicago and Detroit, and ultimately choose to stay in Michigan because I realized I could have a greater impact on my clients and my community in a smaller market. My first job as an attorney was with Dickinson Wright PLLC in their Detroit office in the Banking & Bankruptcy group. While the work was fast-paced and exciting, I didn't experience the personal connection with clients that I was looking for. In 2013, I took a job with Baltus, Kapoor & Associates, a small estate planning firm in Troy. It was at this firm that I delved into estate planning and administration, real estate, and small business planning. I loved (and still love) working with families and individuals as they plan and prepare for the unexpected. In 2017, I joined up with attorneys Sherman Abdo and Matt La Grasso to form La Grasso, Abdo & Silveri, PLLC in Sterling Heights. We strive to provide our clients with exceptional and personalized service in a variety of areas of law. I still focus my practice on estate planning and administration, but also work a bit on real estate and small business planning matters.
Why did you establish your firm in Macomb County?
My two law partners and I were all born and raised in Macomb County. This place is home for us. We understand the way Macomb County residents think and we can connect with them. They are hard-working, down-to-earth, family-oriented people. We are committed to this community and will remain here for the duration of our careers.
What is more important to you in business, statistics or instinct?
Trusting your instinct is pivotal in business. You need to know when the time is right for something, or have a feeling about how a product, promotion, or method of doing business will be received by your clientele. Statistics and data can help inform or hone your instinct, but raw data alone will not make a business thrive. That is why we love serving the Macomb County community – we know this county and its residents.
Did you have a mentor? If yes, who and how did you meet?
I'm blessed to have had many amazing professional mentors throughout my life. When I was young, my parents always supported me as I explored different career paths and helped me get in contact with people who could offer me more knowledge or experience. I've also met a number of amazing attorney mentors over my legal career.
As I grow my career, I hope to serve as a mentor for other up and coming attorneys. I've attended the UCS Foundation of Excellence Career Focus Luncheon for the past three years, which has enabled me to talk with sixth graders about their career ambitions and to share my experiences and advice. I love that I can provide them with just one more example of how a person can build a career and life.
What is your favorite thing to do on the Eastside?
I love bike riding and visiting our county's great parks with my husband and two kids. In fact, we live close enough to ride our bikes to Stony Creek Metro Park from our house. We also love the Mt. Clemens Fourth of July fireworks, the Shelby Township Art Fair, and going to events at Freedom Hill.