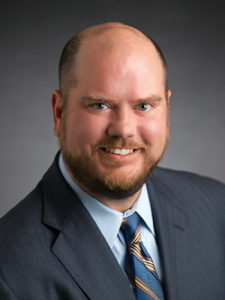 Jake Howlett is a Partner at Viviano Law in Mount Clemens specializing in commercial litigation and real estate law.  Jake joined Viviano Law in early 2011, bringing with him a wealth of experience both as an attorney and business executive at a large real estate development company.
Recently, Jake was an integral part of breaking news in Detroit as the lead outside counsel for the Moroun family in the sale of the storied Michigan Central Station sale to Ford Motor Company.  Jake noted that as real estate deals go, this one was exciting for its scope, size and for the redevelopment possibilities for Detroit. While every deal is important to each client, Jake noted, "it was fun and challenging to help complete a deal of this scope and public importance."
Specializing in commercial litigation and real estate law, Jake was formerly an attorney at a top law firm and served as President of Michigan-based Crown Enterprises, Inc. Crown Enterprises is a large, nationally recognized commercial real estate development company with a diverse portfolio of property in virtually every state and in Canada. In addition to running the business at Crown, Jake also personally managed significant legal issues there, from large transactions to complex litigation, giving him a unique perspective on client needs.
Before leading Crown, Jake had a successful legal practice at Bodman LLP where he worked on a variety of complex litigation matters for many of the firm's largest clients.
Jake is a graduate of Duke University in Durham, N.C. and received his Juris Doctor from Washington University in St. Louis, MO, where he received a merit scholarship to attend and served as an associate editor for the Washington University Journal of Law and Policy.
His litigation and business background help him in his real estate practice.  He is always looking for the risks or potential problems in a deal that might surface in litigation.  But his business background helps keep his focus on getting the deals done. Jake learned the transactional side of real estate in a trial by fire method – learning by doing. The instincts of a litigator are to fight to win, which Jake enjoys, but he finds balance in real estate transactions, which are often a "win-win" for the parties involved.
Viviano Law of Mount Clemens is a small law firm with a big presence. Not only do they represent local businesses, they are dealing with cases and transactions across the country with some of the most sophisticated companies around, including Walmart and Fed Ex. Additionally, they have institutional clients that other, bigger, firms would love to have. However, the benefit to being a smaller, local firm is that they can also appeal to the mid-size business owner to help them through their issues and grow along side of them.
With his previous experience managing Crown Enterprises, Jake can tell clients truthfully, "I've sat in your chair," – having been on the business/client side of transactions as well. He finds that part of this role involves managing expectations and being creative in approach and problem-solving, but also being honest and realistic with the client.
Part of Jake's motivation to move away from a big law firm or organization to create a small firm was the desire to manage time and expectations in how and when you conduct your business. However, along with all the benefits, Jake acknowledges that there are also challenges when the responsibility of business development and employee management also rests on your shoulders.  He says that "lawyers are trained to see risk. My job is to identify risk and advise the client, but also to manage the risk" and make the best deal possible for his clients, large or small. He likes how his practice has developed to give him balance. He still enjoys commercial litigation and the higher-pressure atmosphere of the court room, but also likes the transactional work to give him an alternative pace and challenge different areas of his skills.
In addition to his law practice, Jake is also active in his Grosse Pointe community, particularly with the Grosse Pointe Public Schools and in the regional business community.