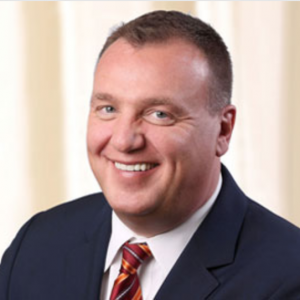 Matt Casey, partner at Warner Norcross + Judd's Macomb office and Advancing Macomb board member, "has focused his practice in the areas of commercial litigation, commercial loan workouts, commercial loan documentation and bank-related litigation. He has extensive experience in loan workouts involving industrial facilities, shopping centers, real estate developments and gas stations."
Who are you and what is your background?
My connections to the County are deep.  I was born in Mt. Clemens (old St. Joseph Hospital) and was raised in Macomb County, attending East Detroit Public Schools.  My mother was a school teacher in East Detroit and my father was an executive at Winkelmanns (old Detroiters will remember this women's clothing retailer).
I attended Wayne State University graduating magna cum laude from the business school in 1987 and from Wayne State University Law School in 1990.
I have been practicing law for 28 years in an office geographically located within Macomb County although I now represent clients nationwide.
While I am a business lawyer and represent businesses, large and small, of many types, I have a specific specialty in banking law.
What do you see as the most important aspect of leadership?
In my view, leadership involves setting an example for others by foregoing or sacrificing leisure, family or productive work time to use one's skills or talents to accomplish broader goals for the community at large.
Are you involved on any boards or in any organizations?
You begin to think a bit about legacy after practicing for close to three decades.  I was interested in joining Advancing Macomb specifically to become part of a group that can act as a facilitator for transformative projects to improve the lives of Macomb County residents.
I also am a member of the WSU Business School Board of Visitors, St. John Providence Foundation Board, Macomb Community College Foundation Board and Macomb County Chamber of Commerce Board.
How do you build consensus on a divided team?
I put a priority on developing relationships with people. Those relationships help make it easier to work together to find what is good about a project or task and find a way to accomplish it.
How do you measure success?
In my practice, I measure success through satisfied clients and being able to secure their return business. In my board/organization work, I measure it through the successful completion of projects.
What sets you apart from others in your industry?
For a large law firm, (230 attorneys) Warner Norcross maintains a culture encouraging teamwork.  It is the only major law firm in Michigan that has committed to Macomb with the placement of an office here.  I like to think that we have the specialization to tackle a very complex legal problem and provide favorable outcomes for our clients.  I have been practicing with many of the same lawyers in my office for over twenty years, all of whom have Macomb County connections.