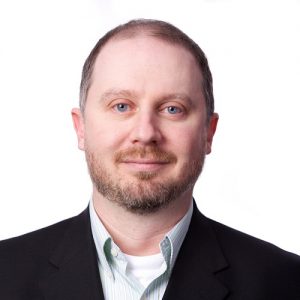 As VP of Emerging Technology, Patrick leads Quicken Loans' usage and implementation of the latest industry standards, as well as drives the research, evangelism and implementation of new and emerging technologies.
Hartford's involvement with the development of mortgage technology spans nearly twenty years. Patrick is a long-time contributor of technical and business expertise to the Mortgage Industry Standards Maintenance Organization (MISMO) and currently holds a seat on their Strategic Planning Committee.  Patrick provides the mortgage industry with technical guidance as it relates to streamlining the IRS 4506 process and FHA electronic signature standards.
Hartford has also been recognized by Mortgage Banking magazine as one of the "MISMO All-Stars."  He has also been a featured speaker at industry events such as the MBA Annual Convention and the MBA Technology show to provide conference attendees with technology guidance and knowledge of electronic and paperless mortgages.
Hartford received his Certified Mortgage Technologist (CMT) in 2005.
Advancing Macomb had a conversation with Patrick Hartford, a Macomb County native, to learn more about him.
As the leader of the Emerging Technology team at Quicken Loans, Patrick said his group is focused on researching technology 2-3 years out to find ways they can enhance their customer experiences and keep Quicken Loans on the cutting edge. Once an emerging technology is identified, the teams go through a very detailed process of research, development and prototyping of an actual application of that technology in order to utilize it to improve their business. This is a process of trial and error, he said, but the focus is to develop a pipeline of technological improvements that have a strong business case for future implementation.
The future…..
As part of this forward thinking approach, Patrick and his team are looking to future trends that might, or might not, already be directly related to the mortgage industry. What they are seeking is technology that that could be useful to their business case. He cited the example of voice-activated technology. With smartphones in many hands and with the growing interest in smart home devices, Patrick and his team are exploring ways to use voice activated technology to connect customers to Quicken Loans services like bill pay, etc. by simply speaking their commands.
Patrick said what he likes most about his position is that he is able to set the general framework for his team and then provide them with the freedom to think outside the box and explore. He says "that is what they do best." The success of the Emerging Technology group at Quicken Loans stems from multiple teams coming together with the same goal to research, develop, and prototype new technology to become graduated ideas with a plan to enhance their business and improve customer experience. He said that he sees the measure of this success as the number of graduated ideas that get implemented and become fully developed products.
Getting involved…..
As a member of the Mortgage Industry Standards Maintenance Organization (MISMO) for the past 15 years, Patrick has been involved in promoting mortgage technology across his field. The organization works to set the data standard for the mortgage industry. His focus is on helping the organization with strategic planning and working to develop a vision for the mortgage industry from a technological perspective.
He appreciates Quicken Loans focus on the future and likes that the company has also taken on a role of being transformative in the region. He would like to see better transit to and from downtown Detroit to take advantage of all the region has to offer.
Being on the Eastside…..
For Eastside adventure, he enjoys the Macomb-Orchard Trail. He said that he and his wife will often ride a 30 mile loop on the weekend to explore the trail and enjoy time outdoors. His family also frequents Blake Farms for the cider, Christmas Trees and more. Patrick grew up in Macomb County, in both Sterling Heights and Fraser. He now resides in Macomb Township where he is busy adding as much technology to his home as his family will allow.