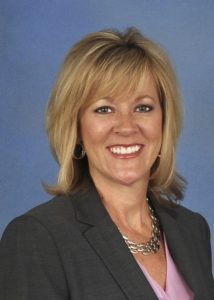 Who are you & what is your background?
My name is Sandy Fester and I've spent my entire career in the health care industry, specifically health insurance.  I hold a bachelors degree in business administration from Northwood University.  I am currently the Vice President of Middle and Small Group at Blue Cross Blue Shield of Michigan, with primary responsibility for the membership, profit and loss (P & L) and our distribution channel. I spent the first half of my career on the operations side of the business before transitioning to the sales area.
How long have you been with Blue Cross Blue Shield?
32 years!
Why did you decide to take this position?
It was a great opportunity to leverage my past experiences and be able to play a more strategic role in the organization while staying connected with the market.
What do you see as the most important aspect of leadership & why?
Having a vision and the ability to inspire trust across the organization so you can help people be aligned and working toward a common goal.  Trust and integrity are critical, especially in an environment of constant change, which is what we have experienced to a great degree in health care.   People will respect an authentic leader.  I don't ever forget where I started within the company and the importance all roles play to achieve success.
How do you measure success?
First, you must be deliberate in goal setting and the actions you are taking.   You need to know where you are before you know where you're going.  Being purposeful in goal setting and measurement is critical.  However, as many know, not all plans will result in success but learning from failures will no doubt better prepare you for the future.  For me it really does come down to setting clear goals and means to measure performance.  Reflection is also important and too often a missed step.  It is easy to move on to the next goal, assignment or initiative without taking the time to reflect on what worked and what didn't.
What sets you apart from others in your industry?
I think the length of my tenure at one company is somewhat unique. I started in a clerical role and today I am in an executive position.   Having the opportunity to work my way up through various jobs within the organization has helped me be successful in my leadership roles.  I can say to people in various areas that I have been in their shoes and understand the challenges they face.  Their jobs matter and a good leader should always make sure that individual contributors across the organization know how they fit into an organization's success.
Looking back at your first year in this position, what changes have you seen within the organization and within your personal leadership style? What challenges have you overcome?

As I said earlier, change is constant which really does make my job very interesting.  I have seen our organization place more emphasis on understanding the needs of the customer and make innovation a priority.  Our current advertising campaign emphasizes it's "time for more" and I think that is a powerful tagline.  While we are a market leader, the market is evolving and we need to continue to understand how are customers' needs are evolving too.  I can't point to one challenge, as I truly try to view them as opportunities and being able to prioritize is key.  Like most leaders we are works in progress.  Knowing our own strengths and weaknesses and showing some vulnerability is okay.  It helps me to know where my opportunities are.  I am never afraid to ask for feedback from others regardless where they sit in the organization.
How do you inspire your team/clients?
I lead by example and I listen.  It goes back to being authentic and leading with integrity.  Everything is not always going to go according to plan or be perfect but when you build trust with customers and your team, it is much easier to work through those challenges.
Did you have a mentor? If yes, who and how did you meet?
I have had several mentors throughout my career but in most cases, they were informal.  I would never hesitate to reach out to people that inspired me and demonstrated good leadership. One of my first managers was one of the best leaders I have ever reported to.  She would also give me stretch assignments and challenge me, while supporting my success.  She used to say, "You fail, I fail, we are in this together."  She saw the leader in me before I ever did and basically influenced my transition from an individual contributor to a leadership role.  To this day I am thankful for her believing in me and encouraging me to challenge myself.
Are you involved with any outside organizations?
I have taken advantage of Leadership Macomb and Leadership Oakland and continue to encourage my team to do so as well. They were both great experiences.  I am most proud of a recent endeavor that I got involved with, which is a nonprofit that supports nonprofits, Impact100 Macomb County.  I was inspired after attending the annual grant ceremony at Impact 100 Oakland county.  I had inquired if there was a Macomb chapter and found that there wasn't.  After talking with a few ambitious ladies that were also committed to Macomb County we formed Impact100 Macomb County. Our goal is to get 100 women to join and reach our goal of giving away a $100,000 grant.  This provides me the opportunity to work with a great group of ladies, exposure to nonprofits in Macomb county and the ability to make an impact in the community I was born and raised in.
What is your favorite thing to do on the Eastside? (Macomb County/Metro Detroit)
Golf is one of my favorite pastimes so I enjoy many of the courses Macomb County offers.