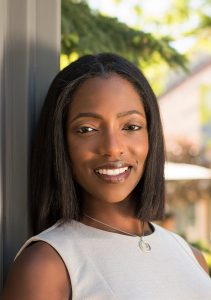 Wendy Batiste-Johnson has over 15 years of experience driving sales growth in the retail and real estate industry.  As the General Manager of The Mall at Partridge Creek, Wendy functions as the local executive of the 609,000 square foot center property with internal and external leadership responsibilities among numerous stakeholders. Among her accomplishments at Partridge Creek, Wendy has led her team to exceed income projections for 5 years consecutively, despite the fluctuating climate in retail real estate.  Additionally, she has led several new development projects on the property, one of which entailed manipulating an underutilized asset and transforming it into a revenue generator.   Prior to joining The Mall at Partridge Creek, Wendy was Assistant General Manager at Twelve Oaks mall, assisting to oversee and manage the 1.6 million sq. ft. center property. Previously at the age of 22, Wendy founded and operated a retail business in Ann Arbor for 10 years.  During this time, she led her business to profitability within 3 years by developing income generating strategies that included the launch of an in-store private label.  Wendy understands the importance of community involvement, and serves on the board of directors for Henry Ford Macomb Hospital, Macomb Community College Foundation, Macomb County Chamber and The Detroit Public Theatre.  Wendy earned a Bachelor of Science degree at Cornell University, and also has completed a business certificate for Women in Leadership at Cornell University SC Johnson School of Business.  Wendy is married and has two beautiful children.
Advancing Macomb had a conversation with Wendy Batiste-Johnson to learn more about her.
Wendy has been the General Manager of The Mall at Partridge Creek for half of its 10 year existence. In that time, she has seen what was originally considered a questionable idea of an open air mall in Michigan grow into a prototype for the concept.
Part of what Wendy feels makes the The Mall at Partridge Creek successful is their view that it is a "downtown" of Macomb County.  The mall is designed to be a gathering place for the community where the shopping is an added bonus. With the mix of a movie theater, community programming, events, a playground, and restaurants, it is a place that the whole family (including the dog) can come to and enjoy a full day or evening of activity.
Inspiration….
Throughout her tenure at the mall, she has been "pleasantly surprised with the warm, welcoming attitude" of the people of Macomb County. Wendy can see that positive attitude play out in an important measure of success for the mall as she has seen sales increase each year. She says that her customers are appreciative of getting a "first look" at new retailers in the region. The arrival of LL Bean was a major regional draw and Cooper's Hawk is on the horizon as the next big arrival.
Wendy is also instituting "Live 360" that invites community members to act as "zealots" for programming at the mall. Starwood, the mall's parent company, is focusing on non-traditional programs and has reached out to community leaders and partners to ask what types of programs they need. She said the concept allows the community itself to lead the way while the mall supplies the space and assistance. Wendy cited two examples of this principle, for one, a worker at the mall who is also a baker brought her ideas to the mall management and it evolved into a baking contest and cooking demonstration. For the second, the Detroit Institute of Arts brought their DIA Away truck to the mall in January to share their arts education with the community.
A lifelong west-sider, Wendy has now experienced and enjoyed the great community events offered throughout Macomb County. She tries to attend as many as she can to participate in the communities that also support the mall. One of her favorite parts of her job is also getting to be involved in the community by serving on a number of boards. She wants to encourage more community partnerships whenever she can.
The future…
As for how she plans to lead The Mall at Partridge Creek into the future, Wendy sees that the focus needs to be on more "family initiated" entertainment. The goal is to "create experiences that are not obtainable online" to bring people out to enjoy time together. She said that the challenge of retail is always to meet consumer need and merchandise appropriately to meet that need.
Leadership…..
Wendy leads a core team of 10 Starwood employees at the mall to try to achieve that goal. To inspire the group, she asks team members, on a rotating basis, to bring in a quote to their weekly team meeting. It can be serious, funny, related to a issue they are working on, etc., but it serves to focus the team and remind them to lift each other up. She also encourages them to use a Starwood theme of "I will" statements to set attainable goals for themselves each day.
Wendy is encouraged by the volume of successful retail in the area. She feels that competition drives the health of all retail and forces her team to stay on their toes and not get comfortable with the status quo. She acknowledges that we are all challenged to be more adaptable these days, but that change can be good. She strives to take this to heart both personally and professionally.