Over cocktails and hors d'oeuvres, business, civic and nonprofit leaders gathered to network and celebrate Advancing Macomb's recent accomplishments at the 7th annual Summer Soirée. The event was hosted by board member Jodi Switalski and took place at the Switalski Law offices in downtown Mount Clemens.
Brian Pilarski, board chair of Advancing Macomb kicked off the event by announcing the grant for $118,000 from the Ralph C. Wilson Jr. Foundation for operational capacity building. The funding will support Advancing Macomb's mission of convening resources to solve community challenges and enrich the lives of Macomb County residents.
Pilarski also highlighted several other recent accomplishments, including:
Launching the inaugural Community Engagement Summit at Macomb Community College as part of a broader initiative to strengthen Macomb County communities. This kick-off event aimed to inspire investment in emotionally engaging citizen-led projects that enhance the county and region's quality of life and economic vitality. Plans are in the works for Advancing Macomb leadership to work with Macomb County cities and townships to bring community-building ideas to life.
Celebrating a successful first year of Breaking Barriers to Play, a program that levels the playing field and makes recreation accessible and affordable to youth and families in underserved communities in Macomb County.
Growing the Advancing Macomb Nonprofit Roundtable, a monthly forum that enables nonprofit leaders to seek and provide feedback, brainstorm solutions, learn new strategies and identify collaboration areas. The Nonprofit Roundtable has grown from 20 to 80 organizations strong and continues to expand.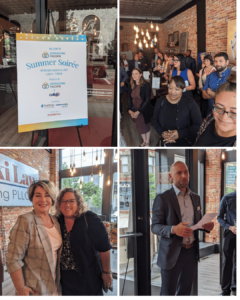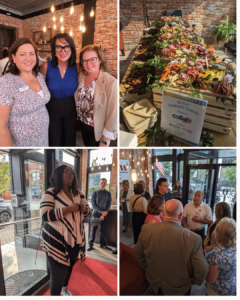 Advancing Macomb board member Maria Silamianos welcomed guests on behalf of collabPEO, the presenting sponsor. Silamianos, one of the longest-serving board members, noted that she is thrilled to see the growth of the organization.
The speaking portion of the program concluded with Jeri Hunley, president and founder of Single Family Living, speaking about her experience with the Advancing Macomb Nonprofit Roundtable. Through the monthly sessions, Hunley says that she has gained overwhelming support for her organization and a sense of community. Single Family Living helps single parents achieve their goals while also mentoring children from single-parent homes.
In addition to Switalski Law and collabPEO, First State Bank and Consumers Energy served as event sponsors, helping to make the annual Summer Soirée possible. The support of sponsors as well as board members, community leaders and volunteers is critical in helping Advancing Macomb transform its vision for Macomb County into a reality.